Some of my long expected post arrived! yippeeeeeeeeeee!
Part of the reason I haven't posted much recently is because I've been waiting on various parcels (and not doing much knitting until they arrived) but now I have PRETTY THINGS (and I haven't even been to the NEC Knitting and Stitching show yet!)
The first, and most important arrival is my Summer of Socks Secret Swap Socks. I have had a wonderful package from
Jodie
which was all beautifully wrapped - I would show you a picture but I wanted to open it so piccies went by the wayside!
She sent me these lovely goodies: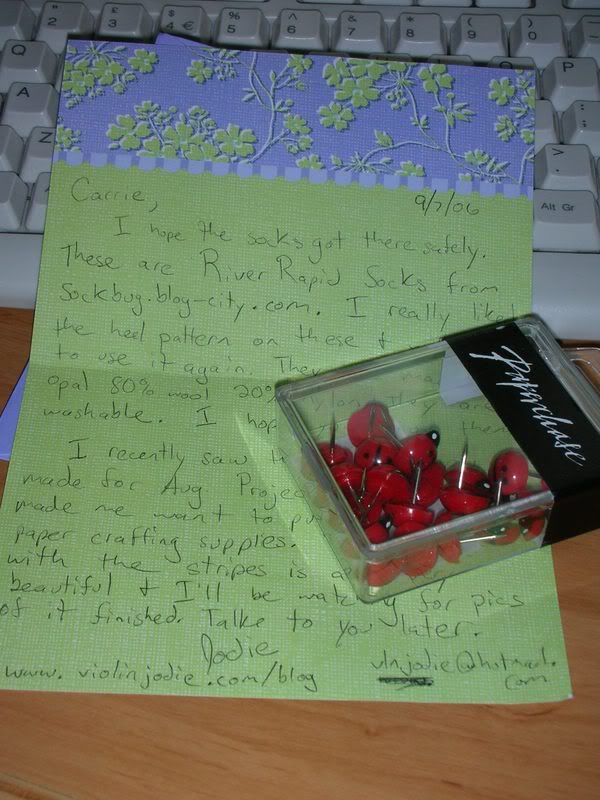 As well as these fabulous socks:
The pattern is river rapids by sockbug and the yarn is Opal and they are so snuggly and fit perfectly and I love them - you can tell this by the fact that I could not remove them from my feet to take a photo - I just put my feet on the desk!
I haven't heard whether my secret pal has got her socks yet but I think it takes a while for things to get to the States even by air-mail so I hope they arrive soon.
All credit to Abigail for setting up this swap - it seems to have been a resounding success so far and I have really enjoyed being involved in it.
Ooooh - what next....
Well in order of decibel of squee noise I think I ought to introduce my other parcel, this time from Curious Yarns. They do some really wonderful stitch markers, some of which are presents so stay secret but one set of which - chosen by my lovely husband were turtles comme ca:
As you can see they have already migrated from the tin and onto my trellis scarf - they are just so pretty and they help the lace no end.
Speaking of lace......
this is a skein of 430 metres of laceweight silk which came in the same parcel and will be a stole/scarf for me when the right pattern presents itself. The colour is tired roses and it is softer than it appears in the picture - dusky roses, greens and browns. (Re the colours - the background fabric is the same in this picture as for the turtles!)
Finally, my wonderfully well trained husband went to Web of Wool on Friday to collect my Kid Classic for me and I am itching to get started on this project - it is the Greek Sweater from last Autumn's IK and looks like this: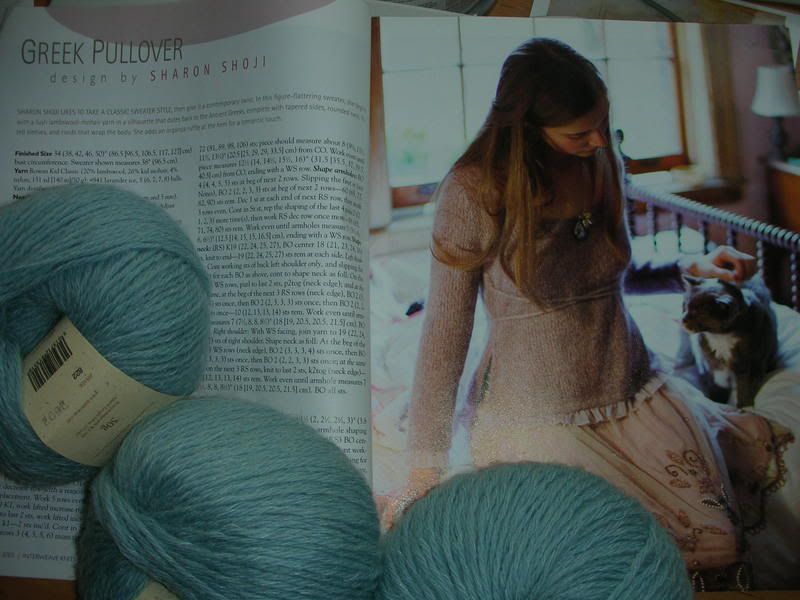 Add some needles tomorrow and we have lift-off
So what have I actually been knitting? Well I do have a little stash-busting quick knit to share. On our honeymoon I did acquire some pretty varigated cotton DK/Aran weight yarn from Sugar and Cream. It tried to be a pair of socks but got impossibly nasty pooling so I set it aside with a general scheme for it to become a bag.
Et voila!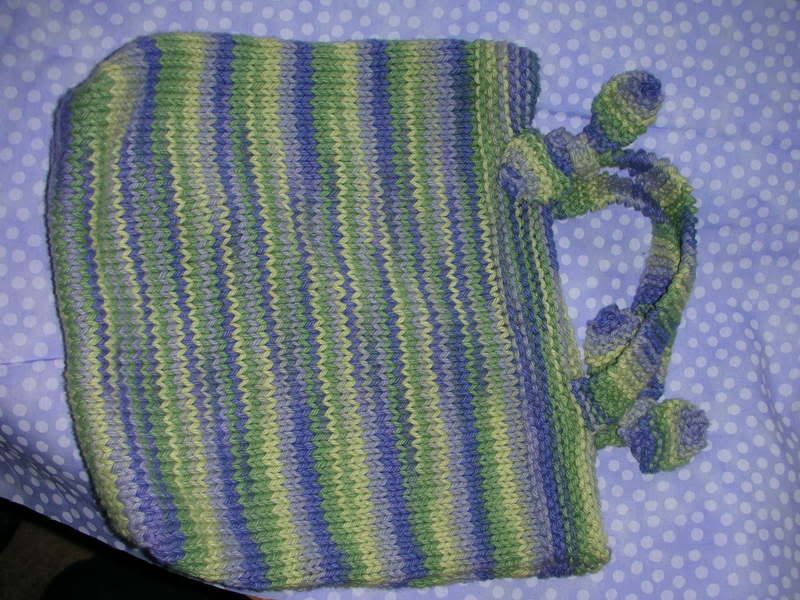 I cast on last Sunday and finished it earlier in the week (at least the knitting part of it). The background is the fabric which I am going to use to line it - all stripes and spots. The pattern is Sweet Suede from the Spring 2004 Knitty and took two balls. It is very easy, very tv knitting and a great sized bag as a little honeymoon memento (other than the appendix scar of course!)
Soooo - NEC show tomorrow... expect more in a similar vein soon!