At first I was afraid I was petrified
Kept thinkin' I could never knit those socks before I died
But then I spent so many nights
Thinkin' no I won't go wrong
And I grew strong, I joined in the knit-along
And now those socks have gone
To another place
From the time it's taken to get them there they may have gone to space
I should have paid the extra price, used overnight delivery
If I'd've known for just one second someone would assassinate me
Those socks have gone, gone out the door
I'm hiding from the postman; parcels are not welcome anymore
Are you the one who's trying to hurt me with your yarn?
Do you think I'll crumble, Do you think I'd lay down and die?
Oh no, not.I. I will survive Oh as long as I know how to knit I know I'll stay alive;
I've got numbered days to live, I've got socks and socks to knit and I'll survive, I will survive.
Hey hey
with apologies to Gloria Gaynor!
The short version is that I am neither dead nor a victorious assasin! I do however have some piccies to share!
First we have a very special ball of yarn. This ball will allow me to finish Smoulder yippee! When extracted from the pile of laundry in my study it keeps mocking me so I will be glad to finish it and wear it while it is still appropriate weather for cotton cardigans.
This means I will be shelving the Greek Sweater temporarily so I finished the back, ta da! it is gorgeous yarn and so soft and warm - perfect for winter.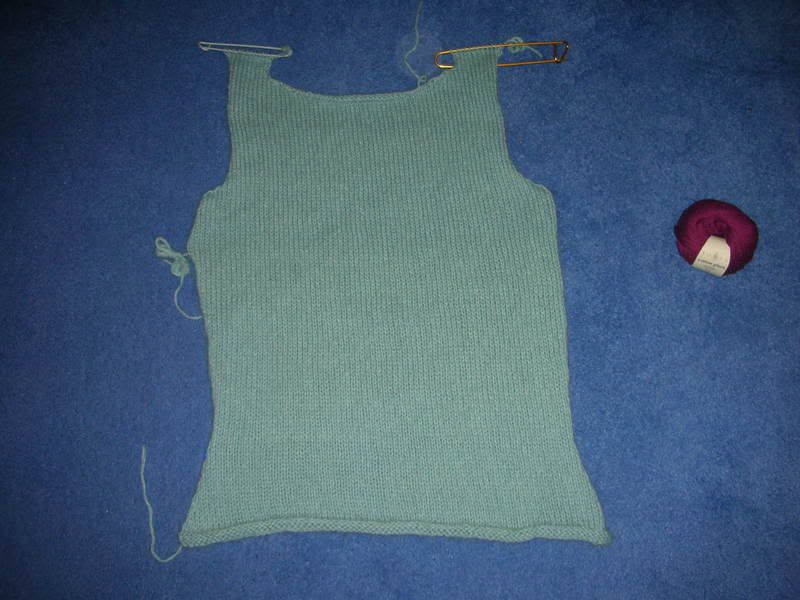 And last but not least my PS Neutrals postcard
Happy knitting for the weekend one and all - I'm on HOLIDAY!!!