Just in case anyone was in any doubt about it: I LOVE CHRISTMAS!
So celebrations for the season of much joy and celebration start early chez moi. Last weekend we put up the outdoor icicle lights and this weekend we have really been busy.
Up early on Saturday we ensured that Sainsbury's was suitably denuded of alcoholic beverages. Inf act because I buy as much of our food as possible from local farmers it did rather look like we were about to live off dried fruit and booze for the festive season - now there's a plan.
The lovely husband then departed for hockey while I made some last minute purchases before beginning the Mince Pie marathon. I had resolved not to make mincemeat or mince pies this year becuase only I ever eat them and so we don't really need them but then a plea for mince pies went out in church last Sunday and I could scarcely resist. I am kicking myself now for forgetting to take any pictures of the 50+ mince pies I made becuase they were very pretty with stars, trees or angels for lids and home made mincemeat inside - so yummy.
When the lovely H returned we went tree shopping (in the dark) and by hook or crook we have a winner: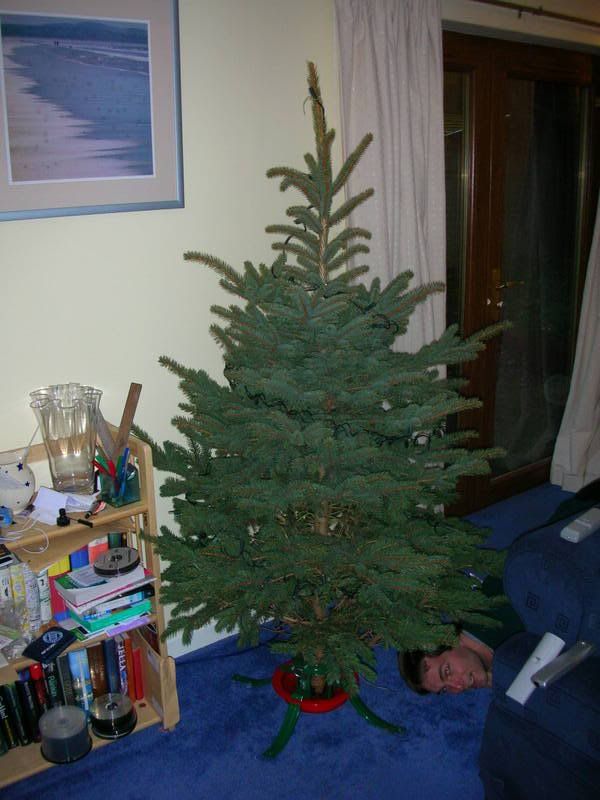 That's H in the corner of the photo trying to sneak in the shot!
We also had Mary, Joseph and the Donkey come to visit as part of the village Passada. They arrived Saturday and we handed over this morning in church. It is really lovely having them travel round the village and it felt rather special to have them to stay. The Wise Men travel after Christmas so we might have them visit as well.
Today we ventured forth to Christmas shop. H was very frustrated about the idea of Christmas shopping until I reminded him that actually most of it was already done and this was only his first trip out! We are now pretty much done and what we haven't bought we have at least decided. Then we decorated our tree and it is beautiful: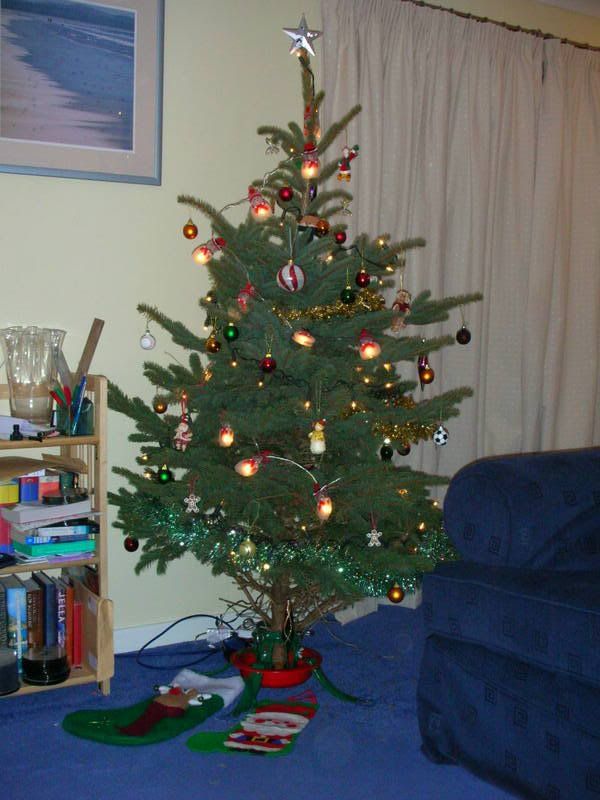 I'm not quite sure whether you can see the second set of lights - they are snowmen!
Finally carolling this evening (and the consumption of many mince pies!) - real life returns tomorow but it's still only two weeks until Christmas.
In other news I have been doing a little bit of knitting (not much) and the bag for my KMKS partner is coming along well - we got the fabric to line it this afternoon so I'm almost there on that part and I've decided on the fillings!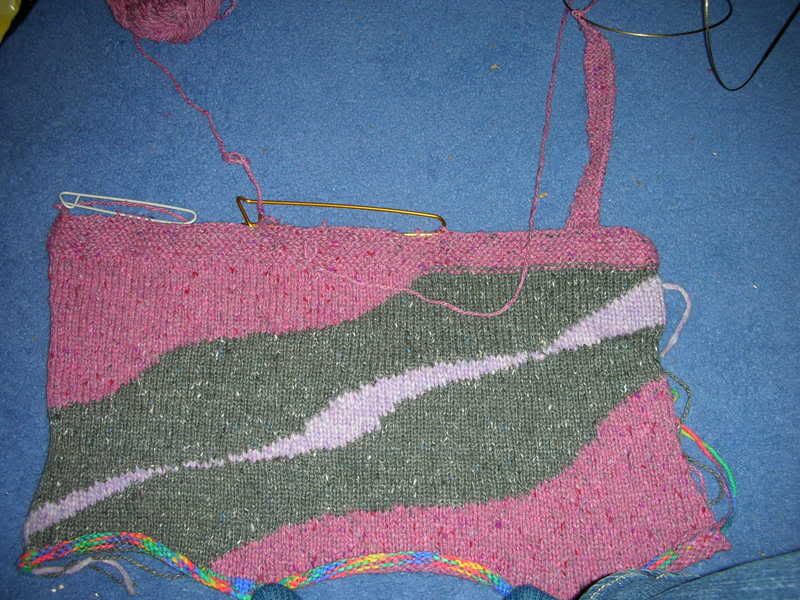 Hope everyone's Christmas Knitting is going well!